Apple, known for its innovation, recently introduced its new device called Vision Pro. In this article, UX Department Manager from Coherent Solutions Lithuania, Alexey Novik, talks about potential fields for application of this device. For a complete understanding, we recommend that you take a look at Apple's presentation.
If you are interested in more technical details, check out Alexey's detailed analysis on his page.
Vision Pro combines design and advanced technology for comfortable long-term use. The high-quality displays provide visualization complemented by the LiDAR sensor familiar to iPad and iPhone users for accurate environmental depth recognition.
While Apple doesn't specify a specific reality type for this device, Alexey believes the Vision Pro falls into the Mixed Reality (MR) category. It combines elements of virtual reality (VR) and augmented reality (AR), allowing users to interact and perceive both virtual and real environments at the same time.
While VR devices are predominantly associated with gaming and entertainment, Apple sees the Vision Pro as a device that can replace our everyday gadgets, from desktops to laptops, tablets and phones. The device could bring transformational change to several other industries. Alexey explored some of the exciting possibilities:
Studies and education
Vision Pro has the potential to transform learning using interactive methods.
–In teaching, Vision Pro excels in two key areas. First, images high resolution and realistic models bring the process closer to real life situations. Secondly, precise and intuitive interactions promote motor memory training and error-free practice. Image quality can even affect the use of digital books.
The device can be used to simulate realistic scenarios, allowing students to practice complex procedures, medical operations, or even research historical events.
Architecture and design
Architects and designers can greatly benefit from this technology.
– The device can be easily connected to your laptop, providing real-time updates to CAD models. Chemical and physical simulations can also reach new levels of immersion, especially with the ability to use external computing resources.
Health and Therapy
Vision Pro can be used to manage pain, reduce anxiety and treat phobias by creating immersive and controlled environments.
-This device has the ability to smoothly move users from physical space to a virtual environment accompanied by spatial sounds, opening up possibilities for meditation and relaxation practices.
Virtual travel and tourism
Travel fans can go on a virtual tour with this device, getting a realistic sense of exploration and adventure. Such excursions to attractions, historical sites and natural wonders will be available to people who cannot travel physically.
In addition to the resource-intensive process of recreating real places, Alexey notes:
– Vision Pro can make it easier to preview 3D apartments for platforms like AirBnB and Booking. The device can improve the real estate industry. However, dynamic virtual travel is still at an early stage of development.
Remote collaboration
With virtual reality technologies, remote work takes on a new dimension. Professionals from different locations can gather in virtual spaces, exchange ideas and work on projects as if they were physically nearby:
-Virtual models capable of expressing emotions through integrated IR cameras made a lasting impression on me.
Want to dive deeper into the technological capabilities of Vision Pro? Follow the link to the pro-version of the analysis from our interlocutor.
The team from Mexico celebrated their first anniversary!
This event became an occasion to get together in the office even for those who usually work from home: many of the guys saw each other live for the first time! And for the part of the team that could not join offline, a stream was arranged anyway. They say that the meeting turned out to be warm and sincere – and looking at these pictures, we have no doubts about this.
On June 10th, the local office of Coherent Solutions, the company ISsoft is a part of, turned 2 years old! The guys celebrated this event in the winery: they had a party with magic tricks performed by a real illusionist and incendiary dances to a DJ set.
On May 3, the first open ISsoft event in Georgia took place at the Expo Georgia exhibition center. More than 60 local IT specialists gathered at one site to listen to reports, make new acquaintances, exchange opinions and contacts. How we will remember this day – we tell in a new material.
Meetup "ISsoft in touch" became the ideological continuation of the technology conference "ISsoft Insights", which the company regularly held in Belarus before the pandemic. To get acquainted with the new audience, the organizers chose a smaller format, which, nevertheless, gathered a lot of guests who were ready to discuss "eternal" topics and current trends in the field of technology.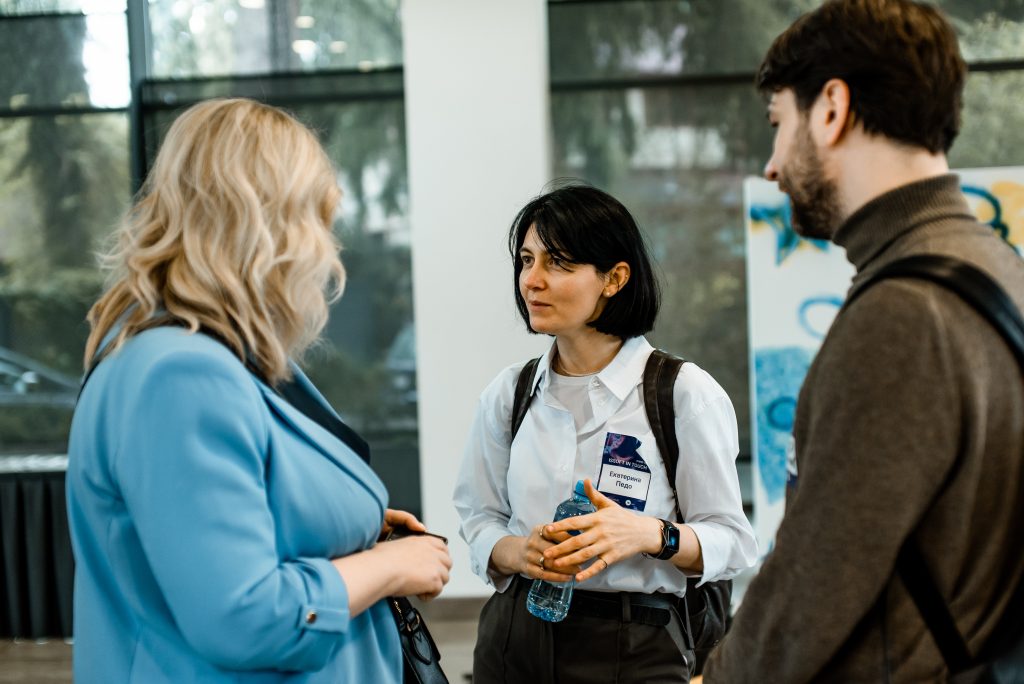 The speakers' reports lasted more than 5 hours: for technical specialists and managers, for just beginning their career paths and for experienced professionals. A series of speeches was opened by a welcoming speech by Anna Metreveli, General Manager of ISsoft Georgia.
The meeting continued with a report by Alexander Drobyshevsky, Innovation Director, about the internal startup incubator at Coherent Solutions and ISsoft. After a short break, the speaker held a master class on generating ideas.
Andrei Yurevich, Director of Career Development, in his speech raised the topic of resource management through the eyes of an employee. The speaker also joined the panel discussion on interviews in the company and artificial selection.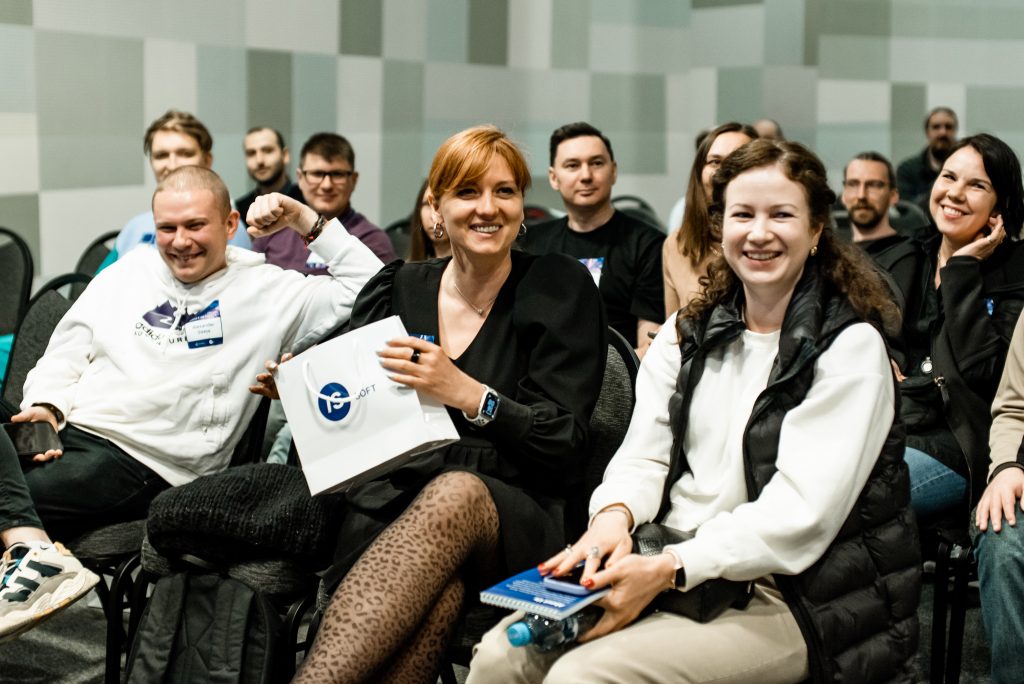 It was also attended by the event moderator Nikolai Ischenko, Java Department Manager, and Michael Sagalovich, Head of QA Automation & DevOps Department, who later made a presentation on assessing the technical skills of an employee.
The final topic was design in the era of artificial intelligence, which was raised in his speech by Egor Navitsky, UX / UI Engineer.
After each report, the listeners could ask their questions, and for the best of them they could receive pleasant prizes from the company.
During the breaks, the participants could share their impressions over a coffee break, relax with a DJ set and take memorable pictures.
Also, interactive zones were organized on the site, where you could throw out emotions and leave wishes on the touch panel, win gifts in the lottery, solve one of the puzzles and assemble your own welcome-kit from branded souvenirs.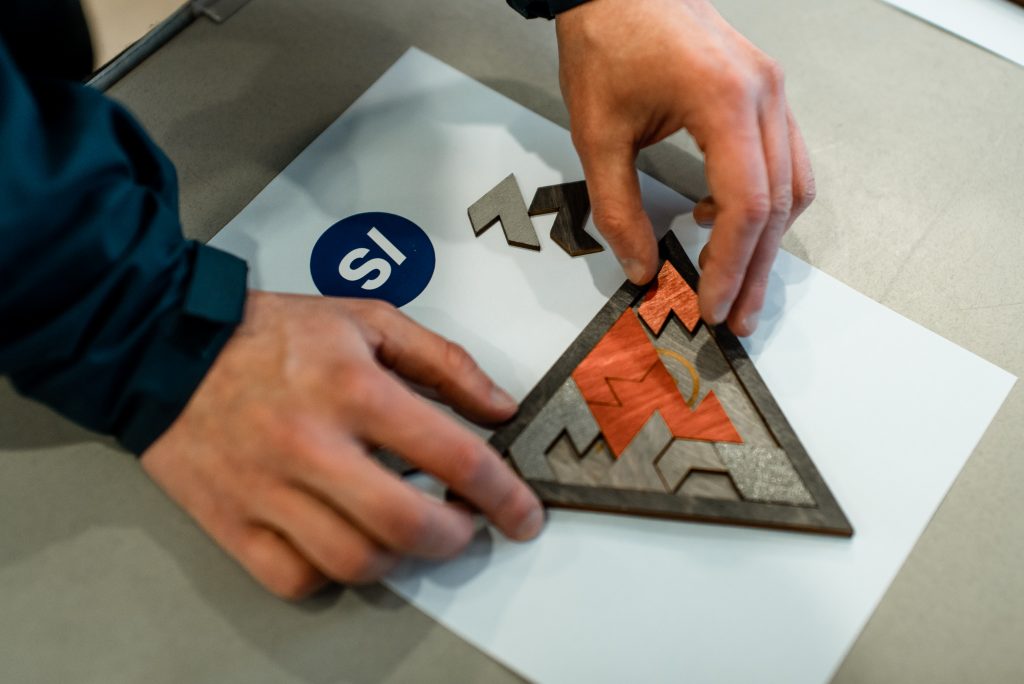 Thanks to everyone who spent this day with us!
Last month, the company's two new offices in Georgia welcomed their first guests. After a couple of weeks, when the first impressions had already subsided, and life returned to the working rhythm, we met with the team at the grand opening ceremony in Tbilisi and Batumi to celebrate this new stage and start the winter holidays.
The ISsoft team appeared in Georgia at the beginning of spring, and since then has managed to turn into a real circle of friends: the guys regularly pleased us with news about how they travel around the country together, meet at master classes and just spend working (and not only) time in co-working spaces rented for them in Tbilisi and Batumi.
The appearance of their own office was only a matter of time – and this time has come. In November of this year, two offices at once opened their doors to our local team. Then the event was celebrated with an excursion and a festive buffet table: we talked about this in the last article.
The official part was also not long in coming: a month later, on December 13th and 15th, a gala party was held for the team in honor of the opening of new offices.
The celebration began within the walls of the "perpetrators of the events": the ceremonial part took place here. Anna Metreveli, General Manager of the company in Georgia, after warm congratulations and parting words, cut the red ribbon – a symbol of a new beginning.
In addition to the local team, guests from the Belarusian office of ISsoft joined the event: a leadership team from Minsk flew specially for the opening to personally congratulate the guys and share this important event with them.
After the official part, the team went to a restaurant for an evening program. While the guests were gathering at the place of events, a buffet table was laid for them and a DJ performance was arranged.
When everyone had already gathered, the presenter invited the head of the office and guests from Belarus to the microphone: they made a solemn speech and congratulated the employees on the appearance of their cozy corner in Tbilisi and Batumi.
The evening continued with a musical program: the ensemble of Georgian polyphony "Geofolk", as well as the duet of Nina Sevastyanova and Tumanov Music, performed for its participants. The combination of modern songs and colorful folklore did not leave any listener indifferent.
The culmination of the evening was the moment when a cake was brought into the hall, decorated with the company logo, transformed into the "motto" of the party and the first year of work in Georgia – the words "Discovering Georgia" with an emphasis on the letters IS.
Music, dancing, talking about work and not only continued until the very night: at the holiday we managed to create the very atmosphere that our company is so proud of – where everyone feels like a part of something bigger.
We congratulate the Georgian ISsoft team on the opening of new offices and the upcoming holidays! We wish you not to lose this magical feeling of one big family and, of course, find more and more wonderful occasions to meet.
The Georgian team found two new places for work and meetings at once: the company's offices appeared in Tbilisi and Batumi. The guys moved from co-working spaces to separate spaces, equipped specially for their needs and tasks. We've found out for you how the unofficial opening went.
Let's recall that in this wonderful country, our team began to form since the beginning of spring. Most of it was concentrated in Tbilisi and Batumi, where for six months they rented places for the guys in co-working spaces and, of course, did not forget about informal meetings (for example, for a winemaking festival or for a trip to mountainous Adjara).
Now our colleagues will be able to see each other even more often — in two new spaces at once. They opened their doors on November 16th, a few days before the celebration on this occasion, so the team had time to assess the situation.
The first festive party took place on November 18th in Tbilisi, in the Saburtalo district, on Otar Chkheidze street, 10. On that day, we were lucky with the weather, so the team settled on a spacious open terrace, which offers a breathtaking view of the mountains and the city.
Shortly after that, already on November 21st, the team from Batumi met in their new office. Now it can be found in the very heart of old Batumi, on King Parnavaz street, 60. Anna Metreveli, General Manager of the company in Georgia, joined the meeting to personally get to know all the employees and congratulate them.
During the opening days, the employees were given a tour: they got acquainted with the administrative staff of the buildings, showed the workplaces and recreation areas that each of the company's offices is equipped with.
They also arranged a buffet table for the guests and after the end of the working day they invited everyone to communicate in an informal setting, exchange contacts and, of course, impressions of the new spaces and this meeting.
We congratulate the team in Tbilisi and Batumi on the move! May the new place bring you many more unforgettable meetings and acquaintances.
On April 11th, ISsoft and Coherent Solutions celebrated another round number: the 50th employee joined the global practice of Project Management. This "anniversary" was the first in the new location of sunny Georgia. Now, when the first impressions have already become memories, we decided to talk with Stas Kuzmich, the very "lucky one", in order to find out whether his expectations from the new place were justified – not only in the workplace, but also on the globe, is it easy to decide to change jobs in conditions of turbulence and whether the Georgian capital is inferior to Minsk in terms of living standards.
Both moving to another country and moving to a new company knock you out of the usual way of life and for few people come easily. Our hero "collected a combo": everything happened at one moment. And if the change of work was in his plans, then the move turned out to be spontaneous.
– I was going to go to Gudauri to snowboard, but then I decided not to return from there to Minsk. In general, I once had thoughts of moving to another country – Poland, I kept postponing this moment, but now I think that such a need arose, we need to move on – so I had to cut it off and make such a decision.
The company in which our interlocutor worked at the time of the move was also not opposed to helping him with the relocation – just as he did not want to leave it "at any cost": Stas speaks warmly of his former place of work. How did he end up at the interview at ISsoft?
— There was no "make or break" moment: in fact, I was not looking for something else much, because everything was pretty good in my last company. I just wanted to see what's on the market in terms of big projects where I could move towards Delivery Manager. Interviews were rare and targeted, because few companies can offer a project of the level that I was looking for.
The hero of the publication admits: even when the invitation from us was already in hand, the move added doubts about the next step. What is it like to change jobs in turbulent conditions?
— I am a manager, I often make difficult decisions and work with risks every day, so I just assessed them once again and understood how I would deal with them. Only the conditions have changed – in contrast to my intentions. What we agreed on at the interview met my criteria: in terms of the team, work, the application itself. In addition, one of my friends already worked at ISsoft and talked a lot about the company, I had good references about the corporate culture.
Despite everything, our acquaintance nevertheless took place: Stas accepted the offer and joined the ISsoft & Coherent Solutions Family what we are very happy about: the team was supplemented by a really strong specialist. His path in IT began back in 2015 with the study of JavaScript, after which, at the very first workplace, our hero realized that he was closer to high-level tasks – communicating with people, building processes – and began to develop in this direction. Before joining us, Stas managed to work with a variety of solutions and a different number of employees in the team, and in the last year he began teaching project management at the HTP Education Center and even released 3 streams.
Now, the mentoring of future PMs had to be put on hold: the online training format turned out to be uninteresting to our interlocutor, so all attention is focused on the main work. By the way, here the team did not meet him quite usually: we recall that Stas Kuzmich became the 50th "anniversary" employee in our global Project Management practice.
The team in Georgia is still at the stage of its formation, and the office is just getting ready to welcome the first guests, but this did not stop us from arranging a little surprise. On day X, a recruiter came to a new colleague with a basket of gifts.
– It was nice to "enter" the company as some kind of "anniversary" – as if I pulled out a lottery ticket or became the "thousandth customer". I didn't know how many people were already working in Tbilisi, so I certainly didn't expect anyone to come with gifts.
Despite the fact that our new colleague was already in Georgia, he still became a member of the Intercompany Exchange – a corporate program under which ISsoft and Coherent Solutions employees can move from one office to another in those countries where our companies have representative offices. Its participants receive material, organizational and informational support in the process of moving.
According to Stas, this turned out to be a nice bonus, however, not the most important one: nevertheless, the conditions which you have every day are much more important than help in the first weeks. Now that the emotions have subsided, it's time to draw the first conclusions. It seems that our interlocutor is satisfied with his choice.
— My work involves communicating with people, seeking mutual understanding with them – I think for any PM this is not a soft, but a hard skill. On this point, all expectations converged with reality: I am very pleased with the new place and, if I had known right away that it would be so, I would have had much less doubts at that moment.
What about moving in general? As it turned out, in a few months our hero plans to move to Poland, where he has thought about moving more than once: there is also such an opportunity in the Intercompany Exchange relocation program. However, with Georgia, too, "everything is ok":
– I can't imagine how I would have lived here for 20 years – but there is something to see and visit. Living in Tbilisi is more expensive than in Minsk – and the level of service is lower: there are not enough large online stores. But I very quickly found everything I needed: a gym, a convenient store, restaurants, cafes. In general, life here is not much different from Minsk life – but there is much more sun: good weather becomes a given, and it's cool. I did not notice a big difference between moving to Georgia and between apartments in the same city – but I was always open to changes.
We hope that all the changes are for the better – both for Stas and for other guys who are now deciding to move to another country and build their lives in a new place. We once again congratulate our hero on joining the team! And for everyone who also wants to consider this opportunity and participate in the Intercompany Exchange, we invite you to look at the vacancies section on our website.